Live from the Master Classes
&

Culinary Stage
Included with your ticket, these master classes & culinary stage sessions are presented by brewers & industry leaders. Each session runs for approx 30 mins and may include a free tasting. Plan your visit with our schedule below. Saturday & Sunday Only

12:45 PM
Sustainable Cooking with Mindy Woods
Saturday's Dish: Kangaroo, & Chicken skewers with Macadamia Satay Sauce
See below for the recipe. Please allow for over an hour for this class.
2:00 PM
Sip & Savour Like A Pro: Tasting 101
How do salt and sugar change flavours? Can you taste the difference between an orange and a mandarin? Come along to this tasting experience where Certified Cicerone, Beer Judge and Brewer Lindsy Greig will lead you on a journey of flavour exploration. You'll walk away with an awakened palate, ready to take on all the festival has to offer!
2:45 PM
Brewer Chats: Wicked Elf
Wicked Elf Brewing has been crafting brews at Port Macquarie since 2008, and their brewer is on hand to talk all things brewing while you taste some of their range!
3:30 PM
7th Day Brewery Beer & Snacks: A Pairing Experience
Beer goes best with food! Certified Cicerone and Beer Pairing Expert Lindsy Greig will lead you through the 101s of pairing beer with food, by doing it with your favourite snacks!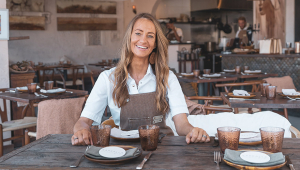 Join Masterchef finalist, Byron Bay restaurateur (Karkalla Byron Bay), and proud Bundjalung woman, Mindy Woods as she takes you through her favourite local recipes.
Mindy will be cooking different dishes on each day.
12:30 PM
Sustainable Cooking With Mindy Woods
Sunday's Dish: Salt & Pepperberry Squid with Finger Lime Mayonnaise
See below for the recipe. Please allow for over an hour for this class.
1:45 PM
Sunday Funday – Bubbles With Hungerford Hill
Start your Sunday the best way, with bubbles! Come along and chat with Nick from Hungerford Hill and sample some of their very best bubbly beverages!
2:45 PM
Beer vs Wine: Cheese
IT'S TIME FOR A BATTLE, and you decide who wins! Two cheeses, two beers, two wines – and you get to vote.
Kangaroo,
&

Chicken Skewers with Macadamia Satay Sauce
Salt
&

Pepperberry Squid with Finger Lime Mayonnaise